Winter Gardens is a popular development featuring quality apartments and penthouses built around the main feature of the complex, a floodlit eight rink international standard Bowling Green.
The ramps throughout Winter Gardens makes it very user friendly for the disabled.
Winter Gardens has a bowl bar a reception/ bowling shop with shoe and bowl hire facilities available. It is here that you can arrange your bowls sessions and enroll for  matches.  The friendly team can also arrange excursions and all you need for a game of Golf at one of the local Golf courses. They are also responsible for arranging internet access for resident across the complex. For an annual fee they can set a device to access the internet, there are options for residents staying for shorter periods also.
There is a restaurant ( Rendezvous )and a snack bar (Rendezvous Bar and Bistro ) on the Winter Gardens Residential Complex.
Winter Gardens is situated a few minutes walk from the Golf Del sur Marina (pictured below) and some lovely sea-front restaurants. Within 100 yards of the complex are some quieter restaurants and a supermarket.
It is an approximate 10 minute walk to the main shopping center, San Blas Square, where there are more bars, restaurants, shops, a supermarket, and nightly entertainment.
If you wish to play golf or bowl the facilities are excellent, however, if you are looking to relax and enjoy quality time with your family, then this is also the place for you. It is perfect for young families and couples, who want to chill. On the other hand, so many facilities are close at hand so you can play hard all day and even party in to the night. The choice as they say, is yours. Although if you want to party day and night you are probably better of staying at Los Christianos or Playa de Las Americas.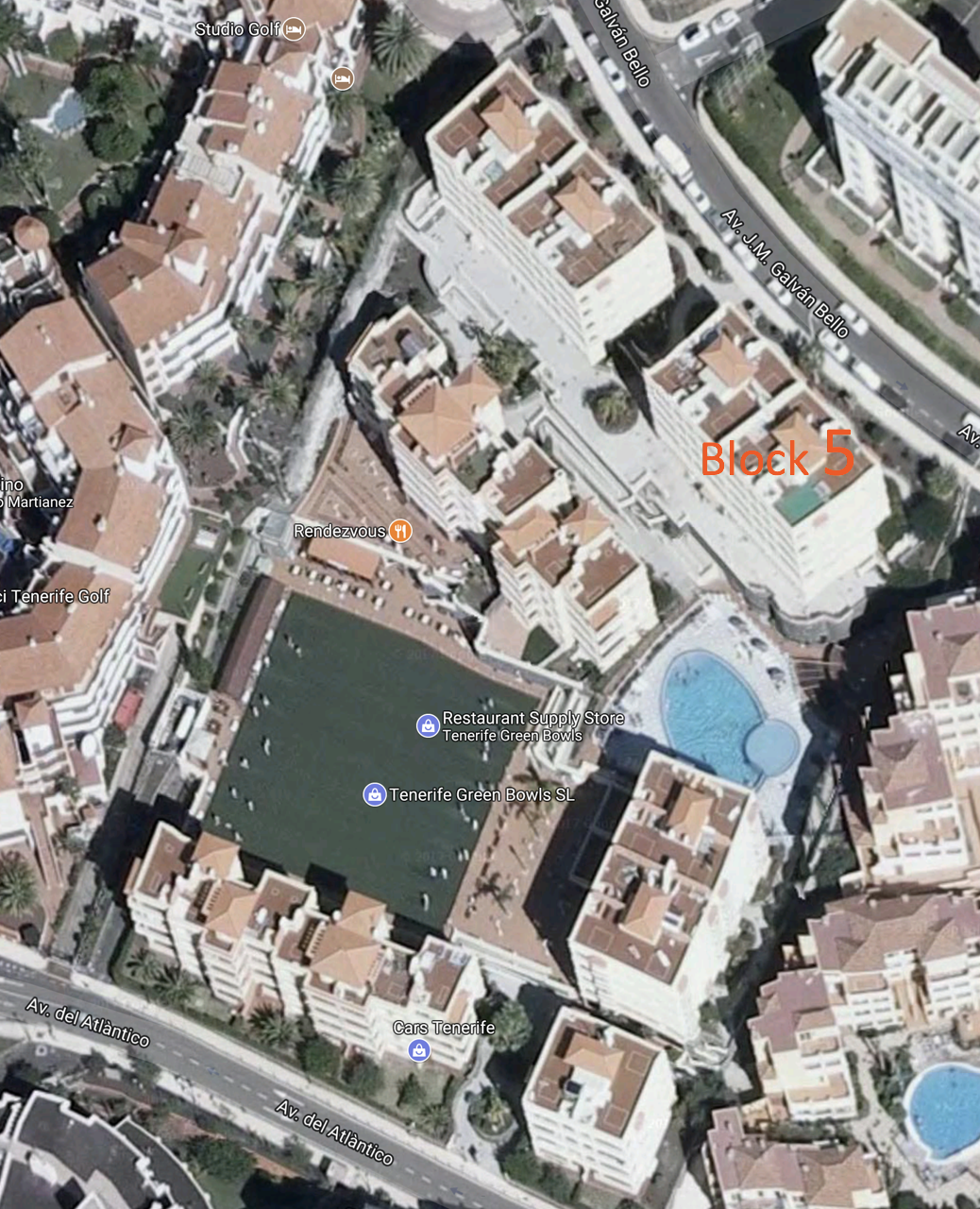 The apartment is located in block 5.
The apartment is located on the ground floor on entry  however as the apartment is built on a slope, the rear balcony is high up above the pool and has some great views.
Winter Gardens, Golf del Sur is located on the South of the Island about 10 minutes drive from the airport. Flights leave all major airports daily to Tenerife Rein Sofia (TFS) airport.
You can easily get a taxi outside the airport for 15-20 Euros depending on time of day, but agree a price first. There are multiple hire car companies located at the airport as well.